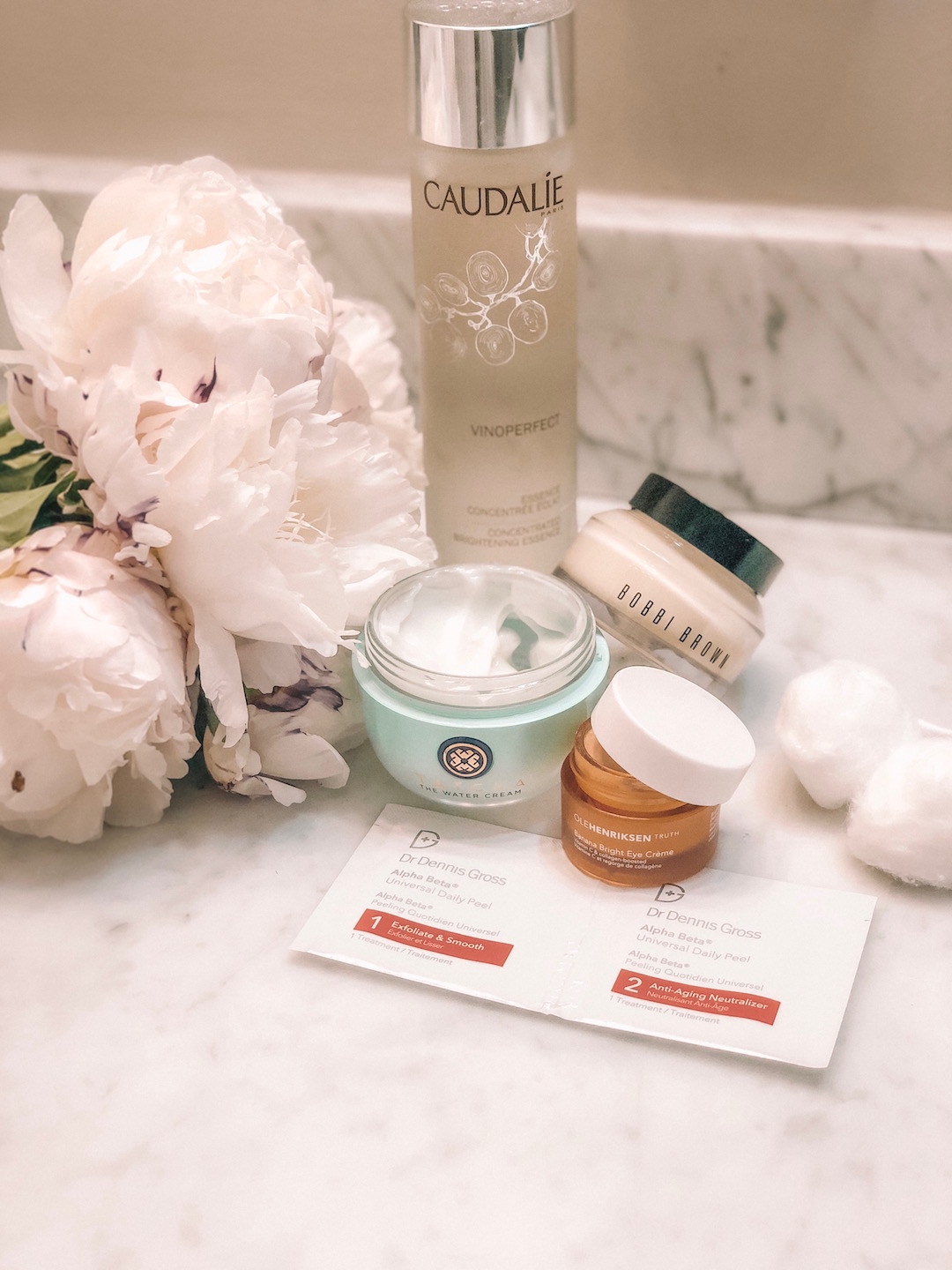 SKIN is most definitely in! Finally sharing my thoughts on my favorite topic!  As one of the most asked question on my social platform, my skincare was a topic I couldn't wait to discuss.  I only waited this long to ensure the products and services I have been using recently would make the favorites list.  I want to start by saying; I am not a dermatologist.  My goal is to share the products I use with the hope some may work as well for you as they have for me.  Let's dive in!
Let's be honest, skin can be so frustrating: from not knowing the right products to use to combatting irritating breakouts. I have struggled for years with hormonal breakouts. My skin is usually fairly clear, but it does breakout from stress, dehydration, and hormones.  My skin is, more recently, combination.  I have an oily t-zone, but do have some dry spots as well (peep the oil absorbing sheets below – lifesaver!). I don't suffer from huge pores or blackheads, but my skin gets congested around my chin when it decides to act up.  Growing up I was more prone to cystic breakouts – which totally ruin your day! I want to preface my favorites list with a disclaimer that I do use two products prescribed to me by a dermatologist. One is a Sodium Sulfacetamide-Sulfer face wash, which is meant to combat acne and does so through an antibacterial agent. The other product I use is a retinol-based cream that helps the skin regenerate and get rid of breakouts much quicker.  It also helps with wrinkles, which is another plus for me.  Prevention starts now!  In addition to those two products, through many trial and error experiences, below are the products I use for my skin (in order of use):
Face Wash:
2.  Exfoliation:
"Toner:"
Creams:
 Aside from incredible products, I am also in the process of completing 6 sessions of Laser Genesis.  Laser Genesis is a gentle procedure, with little to no downtime. The main focus of the laser is to minimize pores and fine lines, reduce oil production, and overall improve skin complexion. The procedure is not painful and only requires one laser. I noticed improvement in my pores after the second session and really love the results. I even noticed some improvement under my eyes, which is a pain point for a lot of women. I would definitely recommend this to anyone wanting to try something new for his or her skin.
Your skin is a very important organ, one that I try very hard to take care of.  Some of the best ways to take care of your skin are simple: drink a lot of water (I am not the greatest at this, I am trying!), wear sunscreen, and let your skin breathe.  Makeup is so much fun, I absolutely love it, but taking it off every night is a must. I never go to sleep without cleansing my skin and many days out of the week I go without makeup to ensure my skin gets to breathe without layers on top of it.
Everyone has struggles with skin, not all the same, but in one form or another we're all in this together. The best thing you can do for your skin is exactly what it asks for.  Don't pick – skin is really good at healing itself – let it!  Use products that your skin agrees with.  I recommend trying one new product at a time to ensure you can weed out what does and doesn't work for you.  As frustrating as skin can be, its also very rewarding to getting the formula just right. It may take time, but its worth it!  I hope some of these products are your current favorites or can become part of your list!  I would love to hear of some other products I should add into my routine. Please share your secrets below!